← Back
Storyboarding: Instagram Polls
Objective: To use National Chicken Wing Day to promote our (American) brand of hot sauce in global markets while reinforcing the product's primary benefit (the perfect blend of flavor and heat)​.
Challenge: Although chicken wings are the main host food for buffalo sauce in the United States, chicken wings and hot sauce are not an instant pairing in most global markets. 
Solution: An Instagram poll that introduces the American tradition of wing-related debates. Asking followers to take the poll, we were also asking them to make wing-related decisions that could stump shoppers at the moment of purchase (especially in markets not familiar with hot wings) but that, considered in the context of a social poll, were just fun, and an easy start down the purchasing path. 
I was responsible for concepting, storyboarding, copywriting, and creative direction (including photo and video shoots).
I kicked off the project with a storyboard. The first three frames would be static polls. The fourth and final frame would be a "trick" frame to be executed as a video.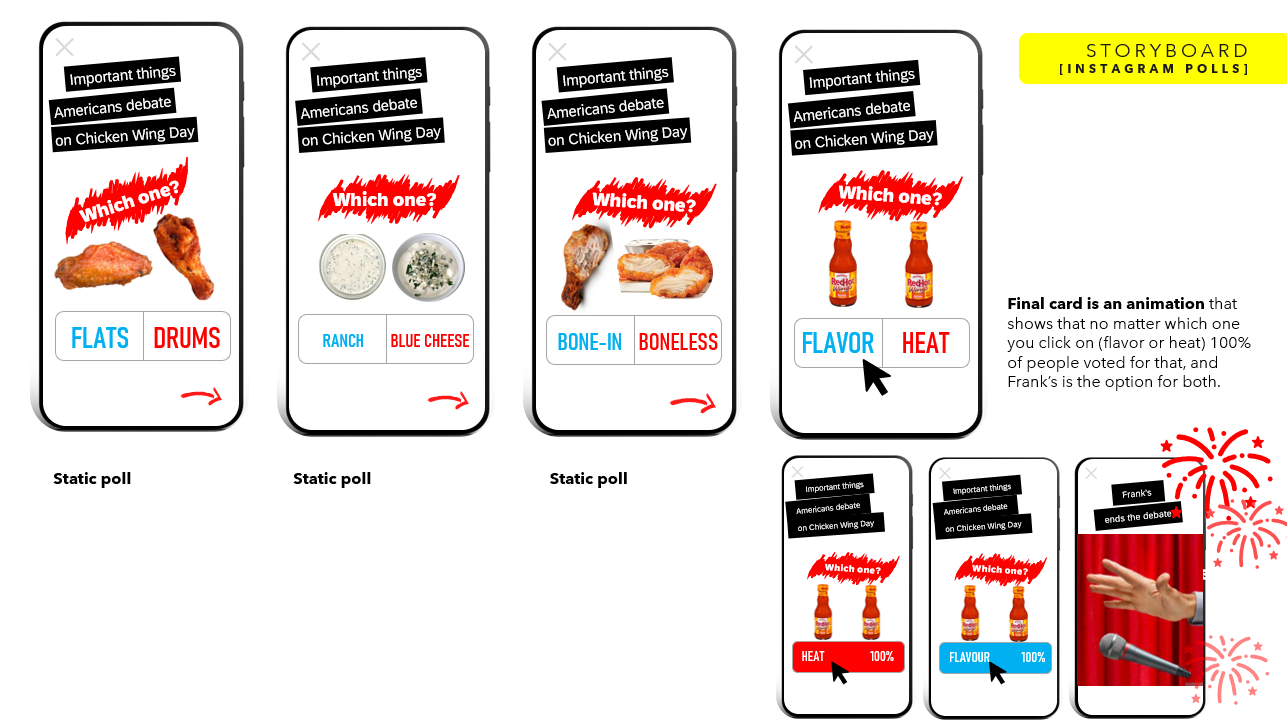 To build our poll, we created three images, each focused on a common wing-related debate. Flats or drums? Blue cheese or ranch? Bone-in or boneless? The fourth frame starts out with one final question: Flavor or heat?
After a few seconds, viewers notice a glitch in that last, seemingly normal poll. 
Suddenly flavor and heat start competing with each other, and eventually the conflict is resolved with the only possible answer: our hot sauce makes the decision between flavor and heat impossible, because it is the perfect blend of both.

Click below to see the final video frame.
We also created translations for our Spanish-language markets.
And, last but not least, we translated the concept to TikTok. Below is the storyboard.